April Letter From Luna
I am very excited about the Korreltjie Kantel album. This month we will be performing in Wellington, Cape Town and Franschhoek. We are especially looking forward to our Cape Town launch, as we are hoping to entertain some industry persons there as well. In the month of May we will be hitting the road – with performances in other parts of the country as well. So do be sure to check out my show list so you can stay up to date with tour and performance schedules. Here is a photo of myself, Nick Turner and Jamie Jupiter – at our first launch at Die Boer in Durbanville – which took place on the 1st of March. Thanks to all who attended that show.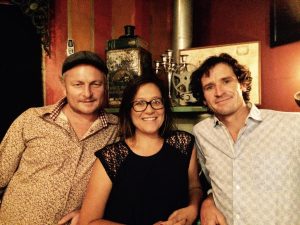 In the meantime I am working on a new show idea with Simon Orange (Blues Broers) and playing with new song ideas for my next album – which I hope to release in September this year.  Have a wonderful April!
Love Luna