October 2020
NEWSFLASH: Two Performances this month
After two lovely performances – one in Stellenbosch and one in Cape Town at the start of this month – I would like to announce two additional performances taking place at the end of the month. If you live in Tulbagh, Ceres, Wolseley and Melkbosstrand – this is for you! Up until now I've had four performances in front of a live audiences since lockdown restrictions have been lifted slightly. Although amount of ticket sales are limited – it is really special to be able to come together and share our love of music and stories with each other. With so much going on in the bad news sector – these concerts are little moments of relief that we all need for our mental health.
The dates to look out for and numbers to contact to make your bookings:
Saturday 31 October 2020, Saronsberg Kunsteater, Tulbagh, Contact Neels Venter at 082 210 5482
Sunday 1 November 2020, Die Geheime Tuin, Melkbosstrand, Contact Ivan Zimmerman at 083 646 8777
I am enjoying continuing with the offering of vocal lessons. Should you be interested in contemporary vocal lessons, feel free to contact me.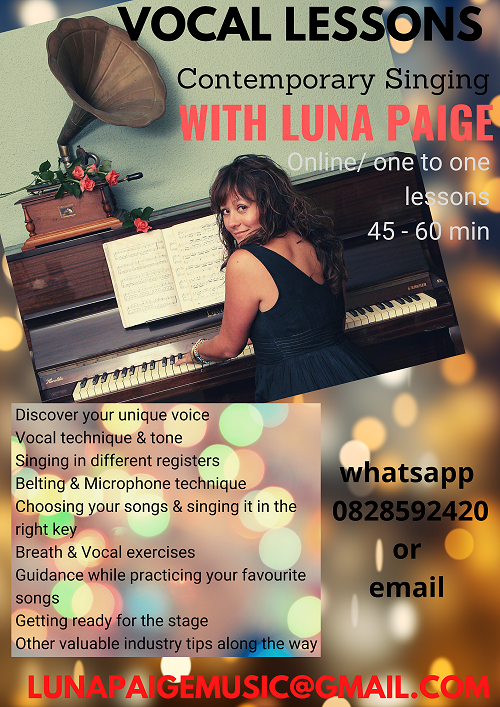 Love, Luna