July 2020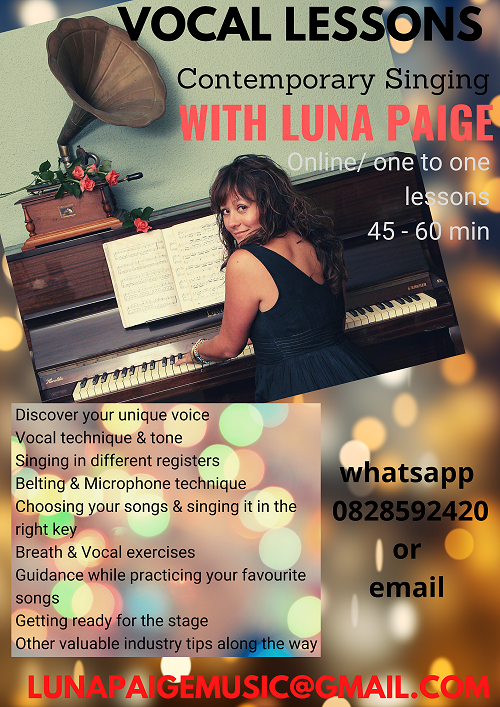 On Thursday 2 July and Sunday 5 July at 20:15 you can tune into Luna's Facebook Page to listen to her perform songs from her Storielied repertoire. All these songs were inspired by short stories and novels she read. The concerts are free, yet you are able to make a financial contribution to show your gratitude. See Luna's show page for details.
On the weekend from Friday 10 July at 19:00 till Sunday evening 12 July 00:00 you can experience a top notch prerecorded concert by name of 21 Years Later. Paige performs her new material alongside her new band featuring Frank Freeman on guitars, Schalk van der Merwe on bass and Blake Hellaby on drums. This show made its debut at Woordfees 2020 and is a celebration of and reflection upon Luna's 21 years in the music industry. Luna is excited to share some performance poetry she wrote over the last year and incorporates this as binding text between her songs. Tickets are available on http://www.webtickets.co.za for R120. Once you purchase this ticket, you will receive a link which gives you access to the show for the whole weekend. You are free to watch this show as many times as you like. See Luna's show page for more information.
In June Luna performed some songs from the 90's and fans seemed to enjoy it quite a lot. Paige will be announcing new Facebook show dates on Friday 17 July.
Hope you are staying safe and getting back in the swing of things. Your support of Luna is much appreciated. It will be some time before artists in South Africa will be allowed to perform in front of audiences again. Please do keep supporting them in their online initiatives.
Much Love